Like a rose, there are some beauties of nature that just leave us speechless.  Rays in flight underwater belong to that group of spectacular sights.   Aesthetically amazing, (as are sharks…truly), when these graceful beauties are sighted, everyone underwater stops and stares, trying to imprint and absorb that moment and memory.  You give a look or make a sound to make sure all the humans know to look look LOOK!
The sightings can be rare or frequent, they can never be planned, and you might only see one ray, or with Eagle Rays a family together, which is really special.  Even if you see a glimpse of a side of a "wing" from a distance, you saw something and it was magical.  These sightings are never planned or expected. Most of the time we don't see them. You can be down there daily for months and never see one.  They are literally flying around down there, and this is why conservation and protected areas are VERY important to animals like whales, dolphins, mantas, eagle rays (there are several other gorgeous types of rays), and of course sea turtles and the other plethora of animal friends who join in the great underwater parties of flora and fauna.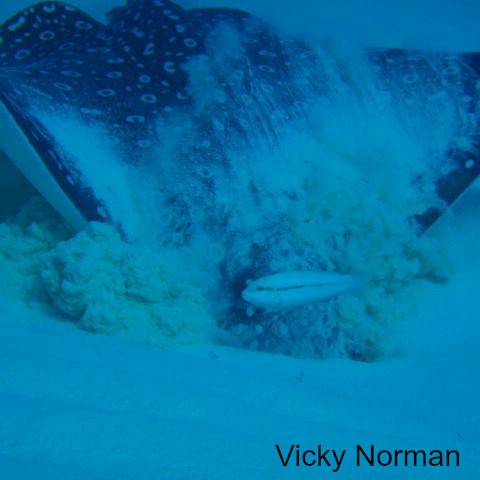 The rays swoop down to the sand to feed on mollusks and crustaceans. This is a rare action shot of the take off after scooping up some. food, probably a conch or mollusk off the sandy bottom..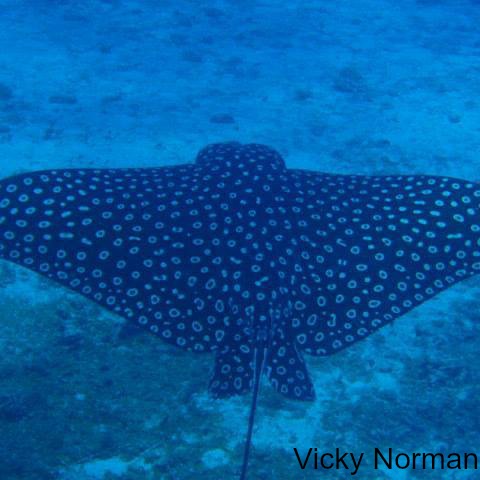 Like a whaleshark, each ray has a unique pattern.  So cool.
Special thanks to Vicky Norman who took these photos in Cozumel, Quintana Roo, Mexico.
_____
Liquid Hike with Michele the Trainer…Healthy Interests Creating Healthy People!
_____
Michele the Trainer is your Wellness Expert, Motivational and Wellness Speaker, Published Author, Concierge Celebrity Personal Trainer, voted Best Fitness Trainer Los Angeles Daily News 2013/2014. Michele's success losing 165 pounds holistically and keeping it off since 1998 is very inspirational. Click here for fun free stuff and information from Michele the Trainer
877-409-1758
www.michelethetrainerwellness.com
Here is Michele's Amazon.com author page where you can find her book, Sexy Salads: