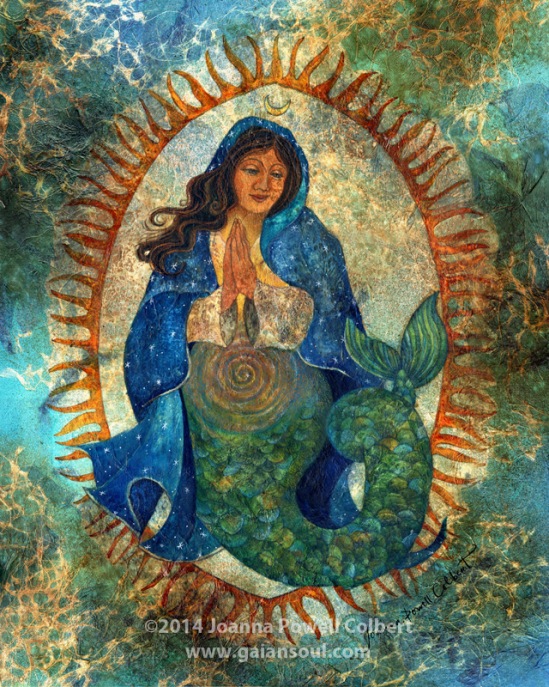 Guadalupe Mermaid by Joanna Powell Colbert
 Guadalupe Mermaid crossed my desk and I can't tell you how much I love her.  A feminine piece showing the  embodiment of compassion, and grace, with some ocean textured hues and features. This takes me to my favorite places; underwater, and to Italy, and to the Sea of Cortez.  What is not to love!
Notice the energetic swirling belly brain.  The swirl takes us to the vortex's of Sedona.  The placement to remind everyone to always trust their gut.  Read this:
http://getprismatic.com/story/1426168176099?share=ODU2NTE.MTQyNjE2ODE3NjA5OQ.7A8pwQejFV72N4QIo8hgvkVptG4
Special Thanks to artist Joanna Powell Colbert for letting me share
Guadalupe Mermaid.  The link for more information is:
____
Liquid Hike with Michele the Trainer…Healthy Interests Creating Healthy People!
_____
Michele the Trainer is your Wellness Expert, Motivational and Wellness Speaker, Published Author, Concierge Celebrity Personal Trainer, voted Best Fitness Trainer Los Angeles Daily News 2013/2014. Michele's success losing 165 pounds holistically and keeping it off since 1998 is very inspirational. Click here for fun free stuff and information from Michele the Trainer
877-409-1758
www.michelethetrainerwellness.com
Here is Michele's Amazon.com author page where you can find her book, Sexy Salads: