Who was the first lady of the USA who planted wildflowers everywhere?  Do you know? I didn't!
Lady Bird Johnson was an environmental FLOTUS, a conservationist and wildflower passionate.  I was in Austin Texas in the spring and wonderfully surprised by the wildflowers you could see off of the freeways. Lady Bird Johnson worked for 20 years to beautify Texas highways.  Read more about her planting flowers all over the United States here, including  her work in Washington DC towards "the natural beauty of the nation" and  9 beautification tours which include the Hudson River:
http://www.wildflower.org/environmental_first_lady/
"Some may wonder why I chose wildflowers when there are hunger and unemployment and the big bomb in the world. Well, I, for one, think we will survive, and I hope that along the way we can keep alive our experience with the flowering earth. For the bounty of nature is also one of the deep needs of man." Lady Bird Johnson
I don't think I've ever seen Bluebonnets before! Wowee!
I took these imperfect photos with my cellphone (hey I did my best) at the Lady Bird Johnson Wildflower Center, 43 acres of blossoming spring greats:
Also honorable mention to the Great Horned Owl that lives behind a cactus in the Wildflower Center's entry.  If you look carefully you can see her here to the right behind the plant (telephoto needed!):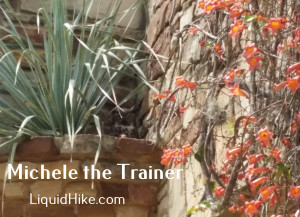 Here's a link so you can know, learn and review What's In Bloom:
http://www.wildflower.org/whatsinseason/
Texas Bluebonnet (the blue flowers)
Pink Evening Primrose (the light pink flowers)
Entireleaf Indian Paintbrush (the orange flowers)
Crossvine (the vining flowers in the last photo)
"My heart found its home long ago in the beauty, mystery, order and disorder of the flowering earth." Lady Bird Johnson

"The environment is where we all meet; where all have a mutual interest; it is the one thing all of us share. It is not only a mirror of ourselves, but a focusing lens on what we can become."  Lady Bird Johnson
"Wildflower landscapes can help us save water. Wildflowers also can save time and maintenance money. They may even bring money to cities and states. Wildflower trails and flower festivals improve local pride and bring in tourists. But, as I've said, we need to know much more about how and when and where to plant them to get reliable, predictable, consistent results. We need that knowledge if we are to preserve wildflowers and to choose them as complements to traditional manicured landscaping."  Lady Bird Johnson
"Though the word beautification makes the concept sound merely cosmetic, it involves much more: clean water, clean air, clean roadsides, safe waste disposal and preservation of valued old landmarks as well as great parks and wilderness areas. To me…beautification means our total concern for the physical and human quality we pass on to our children and the future."  Lady Bird Johnson
"Art is the window to man's soul. Without it, he would never be able to see beyond his immediate world; nor could the world see the man within."
Lady Bird Johnson
_____
Liquid Hike with Michele the Trainer…Healthy Interests Creating Healthy People!
_____
Michele the Trainer is your Wellness Expert, Motivational and Wellness Speaker, Published Author, Concierge Celebrity Personal Trainer, voted Best Fitness Trainer Los Angeles Daily News 2013/2014. Michele's success losing 165 pounds holistically and keeping it off since 1998 is very inspirational. Click here for fun free stuff and information from Michele the Trainer
877-409-1758
www.michelethetrainerwellness.com
Here is Michele's Amazon.com author page where you can find her book, Sexy Salads: